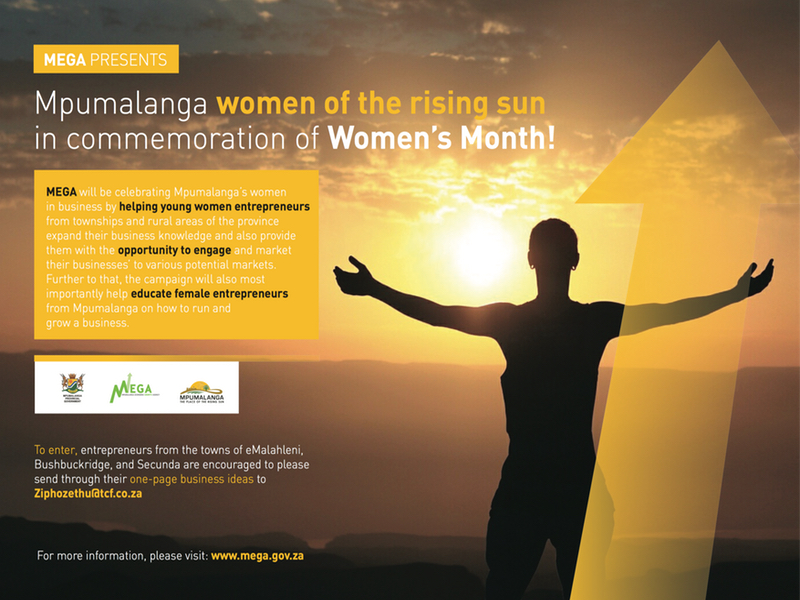 The Mpumalanga Economic Growth Agency (MEGA) will during the month of August celebrate exceptional women in business from Mpumalanga Province. The "Women of the Rising Sun" programme is meant to create awareness and provide training for the black-owned female rural and township businesses.
The Mpumalanga Economic Growth Agency (MEGA) is an official development finance institution and the trade and investment promotion arm of the Provincial Government of Mpumalanga, dedicated to positioning the province as an investment destination of choice and a regional trade hub.
This entrepreneurship programme, is part of Women's Month activities led by MEGA to encourage participation in business by women of Mpumalanga and further stimulate business activity in rural areas and townships.
In line with its objective of supporting and developing SMMEs, the programme will kick off with three MEGA Entrepreneurship Roadshows, which will take place in the townships of eMalahleni, Busbuckridge, and Secunda from the 12 – 26 August 2017 respectively. The three roadshows will be in search of ten Mpumalanga-born and based young female entrepreneurs. These entrepreneurs, once selected, will be hosted in a mini workshop where various business experts will impart their business skills and knowledge.
The roadshows will be followed by a 'Women of the Rising Sun' Gala Breakfast on the 1st of September at the Southern Sun Emnotweni Hotel in Mbombela. The aim of the breakfast will be to honour and celebrate women who are in business and whose businesses continue to thrive.
"MEGA believes in small business development which carries the greatest potential in the growth of the economy and creation of jobs and rural areas and townships are endless with opportunities. The Mpumalanga government recognises the need for growth in township and rural economies, and the fact that black-owned rural and township enterprises are firmly at the centre of the economic transformation agenda. Mpumalanga believes in supporting women black-owned businesses in order to grow the rural and township economies and create much-needed jobs", said Xola Sithole, CEO of Mpumalanga Economic Growth Agency.
"We call upon women entrepreneurs to visit our offices and take advantage of the opportunities we have to offer. Our economic recovery programme requires our collective efforts and participation by all in the country's economic activities" further said Mr Sithole.
Media Contact:
Thulani Nobela
Tel: (013) 755 6328
Cell: 079 699 1281
Issued by The Communications Firm on behalf of Mpumalanga Economic Growth Agency